Offset Printing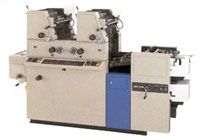 First and foremost, we are a printing company. Our commitment to producing quality printing is surpassed only by our desire to provide it at the lowest possible costs to you, and with the finest service. So, whether you are looking for simple black and white business cards or full color brochures or booklets, we can accommodate your needs with competitive prices and superior quality!
We make it a point to stay very competitive in the printing market and pass the savings on to you. Call us for a quote and you will see that we can provide you with a very reasonable price for whatever you are planning. Please ask us about our Free Color Days.
Our team is available to consult with you about your complete printing package. From concept to completion, we will help you get the most out of your printing dollars. Our experienced design team will offer suggestions on paper and ink colors to support your design and professional image. Tell us what you want, and we will work out how to get it done.
No matter what your requirements, big or small, we can handle them all. With our multi-color printing systems we have the ability to handle all of your printing needs on all types of paper and card stock.
We print everything from brochures and forms to sales presentations and newsletters. We offer traditional single, spot and full-color printing. New digital technology also allows us to offer affordable, short-run, full-color printing.
Big Job? No Problem.
At Minuteman Press Bakersfield, our equipment can handle a multitude of jobs, no matter how large or complex. From 100 one- or two-sided documents, through to well over 500,000 full color documents – we can do it all.
We'll even help you decide which color and texture of paper best suit the image you want to convey.